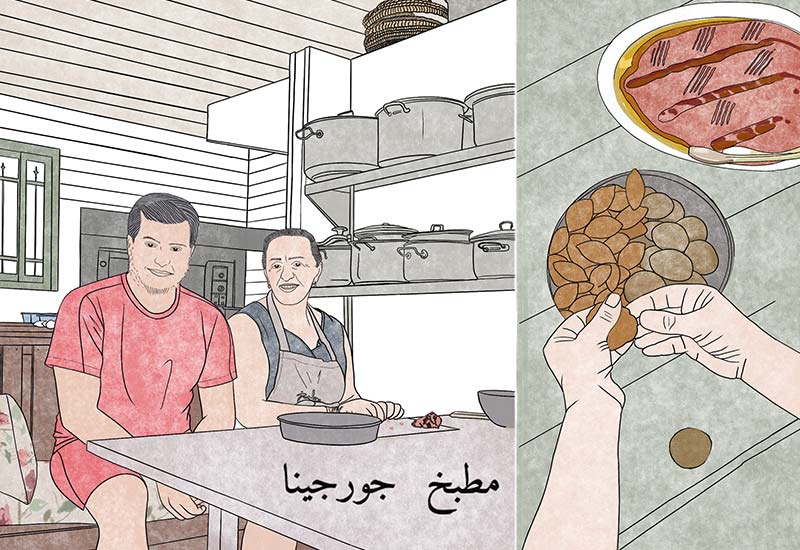 "Ahlan – Matbakh Georgina" is Georgina's family kitchen; a few tables nestled between the orange trees, around a small water pond, where you can enjoy the best Kebbeh and much more.
Georgina always dreamt of opening her own restaurant in her hometown, Kfardlekous, a small village near Zgharta … rich in water, known for its olive trees and olive oil production, but most charmingly, where the smell of orange blossom fills the air during spring days.
True example of women power, Georgina left her psychology studies to help her husband provide for their children, Anthony, Samir & Jad. To do so, she decided to focus on what enlivens her most: cooking and mouneh production.
After years of hard work, and with a little push from Souk El Tayeb, she was able to set up her own production and catering kitchen, and occasionally serve her customers in the garden of her family house.
In parallel, she continued to juggle between Tawlet where she cooks once a month, her stand in Souk el Tayeb, and the many events to which she participates, but her main wish was to grow her business together with her own family.
Today, with "Ahlan project", Georgina, the Kebbeh Queen sees her dream fulfilled. Her kitchen was redesigned to welcome more customers and offer them the very best of the region, all together with her son Jad who shares the same passion for food, other devoted members of her family and 7 young men & women who have become part of her team.